Why Should You Have Leather Upholstery In Your Car?
Even many high-priced cars don't offer leather seats when they are sold. That means that if you have leather seats the car price and your image go up. Leathery seats are stylish and very comfortable. They look more attractive than any other fabric. But repairing leather seats will need the services of a leather car seat repair shop as you cannot do it yourself. But maintaining leather car seats are easy. Just a wipe with a cloth can make them look like new. They don't attract any allergens and so safe for your skin. As leather doesn't absorb liquid it is easy to just wipe it dry.
How Much Do You Love Your Car?
If you love your car, you ought to take very good care of it in all sense. Even if you do not love your car madly, you still need to take good care of it if at all you do not want it to disappoint you suddenly. One of the most important things to first cross someone's mind as one sits in your car is obviously your car seat.
Why is a Timely Car Upholstery Repair Really Important?
However, car seats can get torn-out, out of constant use over time and you cannot afford to have your car seat unrepaired if it ever needs a repair. If you do not, it can even be a matter of a big embarrassment. As a matter of fact, car upholstery repair is something which can be easily found these days since there are a huge number of car service centers around.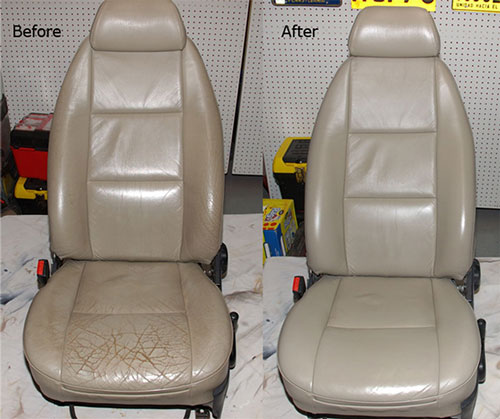 What If You Do Not Have Enough Time For It?
If you think it will take a lot of time and you cannot afford to spend so much time, there is a solution to this as well. It actually does not really take much longer but even then, if you think, you cannot afford to spend that amount of time, you can simply call up one such leather car seat repair shop that offers home service.
This will certainly make things a lot convenient for you and guess what, while you have your breakfast, the mechanic could come and would do the car upholstery repair at your home. It certainly cannot get any easier than this, right?
How Expensive Car Upholstery Repair Can Be?
Car upholstery repair is not much expensive. However, it also depends on the extent to which your car seats need a repair and of course, the amount of time required to repair it. Besides, you can always choose a service provider that offers the most competitive price.